Preschool and Primary Programs
» Toddler Program (Ages 18 months to ~3 years)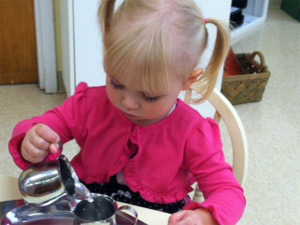 "Toddler Community"
Children 18 months to 3 years
The first few years of a child's life are crucial to his or her personality and intellectual development. In his acclaimed book, The First Three Years of Life, Dr. Burton L. White says that a child born with the best mental and physical capabilities may not attain even average levels of competence without exposure to appropriate experiences.
Toddlers need not only love, emotional nurturance and a healthy physical environment, but also an environment that promotes their very real need to learn. The Montessori Teaching Method provides a basis for individualized learning activities, appropriate for even the earliest stages of a child's development.
The purpose of the Toddler Community at the Greece Montessori School is to encourage, assist, and protect the normal development of each child. Children in the Program flourish in prepared environments which respect, support and respond to their basic needs for independence, exploration and the building of trust and self-esteem.
We believe that cooperation between the Directress and the parents is crucial in the development of the child. Parental involvement is stressed; parents know their child better than anyone else. Parents and the Directress must feel comfortable in exchanging knowledge and experiences about the child. Informal parent groups and individual parent meetings are held throughout the school year.
During the early years of life, Dr. Maria Montessori believed, "the first thing the child's education demands is the provision of an environment in which he or she can develop the powers given by nature." Quite literally, the school environment is the curriculum. Quite literally, the school environment is the curriculum.
The structure of the curriculum is based on five developmental areas: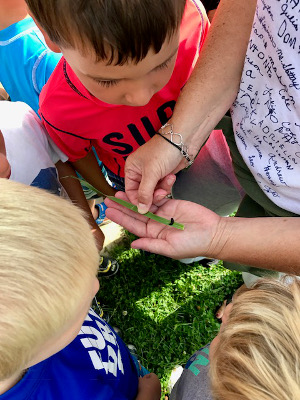 Sensory and Perception
The young child absorbs the world around him or her through the five senses, and a rich environment should cater to the child's senses.
Physical and Motor
Along with the mind, both fine and gross motor skills develop rapidly from three months to three years. Attention to these needs supports balanced development. A young child's physical ability and movements are important to his or her environmental involvement, and thus education.
Self-Help Skills
The focus is on helping the child attain and enjoy independence; each individual must learn to self-educate.
Language
The construction of vocabulary is a part of every aspect of the classroom from snack time to manipulating a toy to group activities.
Social and Emotional
A well-rounded and happy child, whose social and emotional development has been supported by responsive individual attention, reacts positively with the environment, copes with frustration, and learns easily.
Dr. Montessori emphasized the need for a rich environment and noted the speed at which children can develop. "If our own adult ability be compared with the child's, we should need sixty years of hard work to do what he or she does in three."
While providing a structured, and thus familiar, environment, the needs of individual children are met. For example, there are many physical, emotional and mental values involved with their work. Through various activities, the child learns to be independent. An individual, at any age, cannot make an intelligent choice or be responsible without independence in thought and action.Toddler Community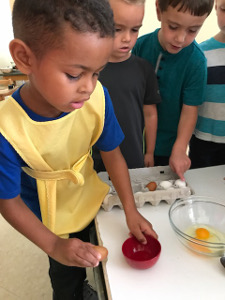 Independence will be achieved through:
Care of the environment
Development of language skills
Movement
Music
Practical life activities
Social Interaction  
A Montessori trained Directress and classroom assistant will nurture the child's natural curiosity and love of learning. The class size of 11-15 will vary throughout the year as children achieve readiness and progress to the Montessori Primary classroom. The Toddler Community provides a solid foundation, upon which the child's future learning at Greece Montessori can be based.
Dr. Maria Montessori believed that education begins at birth and the first few years of life, being the most formative, are the most important both physically and mentally. Because mental development is these early years proceeds at a rapid rate, this is a period which the child's future learning at Greece Montessori School can be based.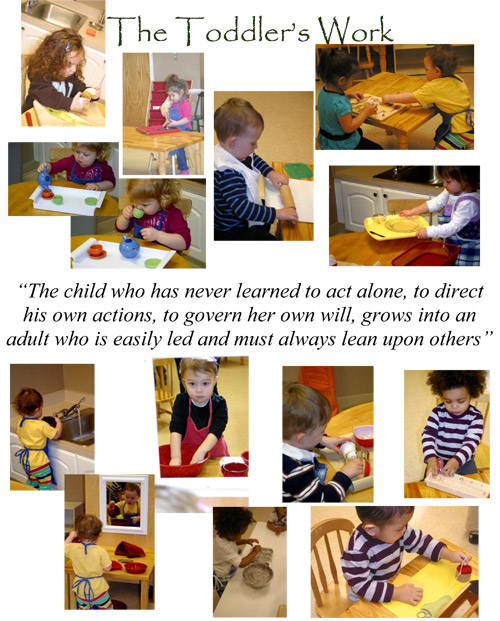 » Primary Classroom (Ages 3 years to 6 years)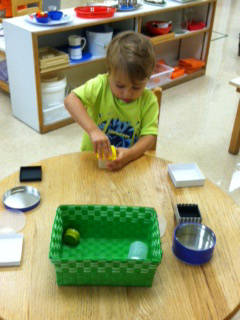 The Montessori Primary Classroom Curriculum is designed to be completed during a three-year program for ages 3 to 6 years old including kindergarten.
Exercises of Practical Life:
These activities allow the child independent activity while mastering skills necessary to care for himself and his environment. They utilize and proceed from gross motor coordination to refined motor skills. The sequence of action in each exercise demands left to the right movement which builds concentration and is in direct preparation for reading and math.
Sensorial Development:
Based on Montessori philosophy the children learn through their senses, the specially designed apparatus allows the child to isolate qualities he sees in his environment. Through isolation, he is able to master definitive recognition of differences, sameness, and degrees of gradation, then re-apply them to his environment.
Language Development:
The child's existing vocabulary is extended through vocabulary enrichment, classification, and phonetic sound work. This is coupled with visual recognition of alphabet letters and cognitive association of words. Writing begins with phonetic words as well as reading. Unphonetic words are taught later, as well as the function of words and simple and complex sentences. Diagramming sentences and knowledge of all parts of speech is part of the program. These children usually read on a 2nd to 4th-grade level.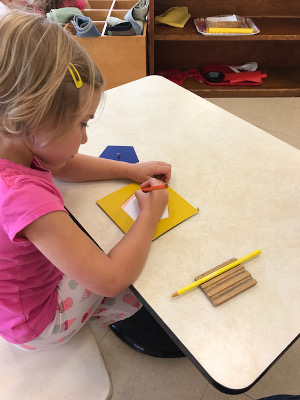 Mathematics:
Once the child knows his numbers 0 - 9 and can count, he proceeds to learn the decimal system and place value of numbers, the terminology units, tens, hundreds, thousands, etc. The four processes of addition, multiplication, subtraction, and division are performed in the progression of using concrete materials to less concrete to abstract.
Cultural Subjects:
These include geography, science, botany, music, and art.
Physical Education:
This includes the use of a gymnasium for organized games, as well as activities in the classroom such as the balance beam, walking, skipping and hopping on the line. 
» The Wrap-Around Program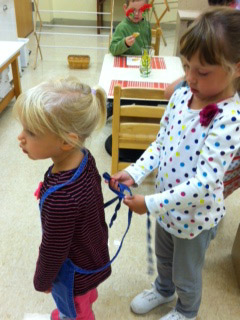 The Wrap-Around Program (WAP) was designed to meet the needs of parents requiring childcare outside of the scheduled school hours. The WAP is committed to offering an environment consistent with the Montessori philosophy that places emphasis on the dignity of the child in a relaxed atmosphere. This program is an extension of the Montessori program, and the policies of the school are also adhered to for WAP.
WAP care is available only to children currently enrolled in the Greece Montessori School.
Use Schedule:
Families are required to sign a contract, making a commitment to a specific fee schedule. This fee schedule is based on a regular program of childcare use. Any change in the schedule of use will require two weeks prior notice in writing to the school administrator. Schedule changes, resulting in a decrease in use from the originally agreed to rate schedule, may not be made more than once in a nine-month (September - May) school year. Failure to provide two weeks required notification of a schedule change will result in fees being assessed at the contracted weekly rate. Attendance on unscheduled days may NOT be substituted for absences on scheduled days.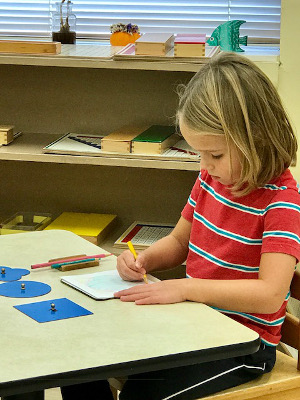 Parents may also contract to use the program for a maximum of six weeks during the school year (up to three weeks between September - January, and up to three weeks between February - June). Parents will be charged according to the WAP rate schedule and are required to follow the same rules as those using WAP on a regular basis. Two weeks advance notice to the Administrator is requested so that adequate staffing may be provided.
WAP recess is defined as those weeks on the GMS School calendar when school is not in session (typically the last two weeks in December, Winter Recess in February, and Spring Recess in March or April.) This program is not offered during school closing and Summer Recess.
Wrap-Around is staffed until 5:30 PM. Parents must pick up their child no later than 5:30 PM. If, for any reason, parents are unable to pick up their child by 5:30 PM, they must notify GMS by 4:30 PM. For all pickups after 5:30 PM, parents will pay the sum of $20 per half-hour or any part of a half-hour after 5:30 PM. If a child is not picked up by 6:00 PM, every attempt will be made to notify parents or the designated emergency representative. In the event no one can be reached by phone at the stated numbers, the Administrator will be called and the appropriate action will be taken.
Parents are billed on a bi-weekly basis at the end of the billing week. Payments should be handed personally to the Administrator or placed in the Administrator's mailbox. If payment is not received by Wednesday of the following week a $5 late fee will be charged. For security reasons, please pay by check. Children are not eligible to participate in the program if financial obligations are met as they are incurred. Should the child cease to be a student of GMS, he/she becomes ineligible to participate in the program.
The Greece Montessori Administrator reserves the right to limit the number of children in attendance in Wrap-Around. Priority will be given to contracts with the greatest number of hours used.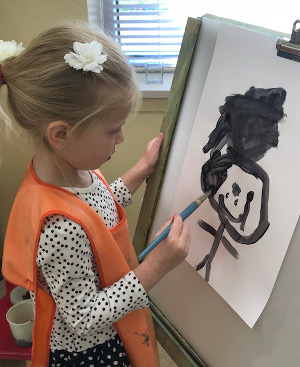 Breakfast and Lunch:
Children attending the morning session of Wrap-Around may bring breakfast to eat before the beginning of the school day. Breakfast should be kept simple with no cooking involved. Cold cereal with milk, juice, fresh fruit, bagels, or wholesome muffins are good choices.
Children attending the afternoon session should bring lunch. A refrigerator is available to keep perishable foods cold. Please make lunches nutritious. Avoid sugar and junk food items as well as items from fast food restaurants. No soda, gum, or candy is allowed. Keep lunches simple and nutritious. No "Lunchables" allowed. Pack foods with good vitamins and minerals such as vegetables with dip, sandwiches, soups in a Thermos, salad, fresh fruit, pasta, rice, cheese, and yogurt.
Breakfasts and lunches should be packed in a plastic or cloth lunch box. Boxes must be solid colors, NO cartoon characters. A Thermos is suggested for hot/cold items. Washable utensils should be packed if needed. Food should be packed in Tupperware or re-sealable containers. Please be sure to use containers that the child can open unassisted.
Greece Montessori School is focused on recycling and caring for our planet's environment. Please use Thermoses for drinks and wax paper/reusable containers instead of plastic bags/wraps for food. In keeping with the Montessori philosophy, allow your child to be responsible for preparing and packing his/her own lunch at home (with assistance, if necessary).
Rest Periods
There is a rest period each afternoon. Parents should provide a sleeping mat with a plain cover sheet. No cartoon character sheets are allowed. You may also provide a blanket or other comfort item if needed during the rest period.
To facilitate sanitary conditions, coversheets are sent home every Friday to be laundered. Please send a clean sheet every Monday.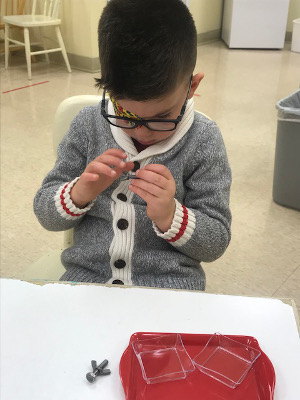 Daily Schedule:
Before School - 7:00 a.m. to 8:45 a.m.
Breakfast - 7:00 a.m. to 8:15 a.m. (provided by parents)
Free Play
Story Time
After School - 11:45 a.m. to 5:30 p.m.
Lunch - 12:00 p.m. to 1:00 p.m. (provided by parents)
Rest Time - 1:00 p.m. to 2:20 p.m.
Outside playtime (weather permitting)
Arts and Crafts
Snacks 
Story Time
Non-competitive activities such as singing, board games, etc.
Please note: The staff will not be able to give children any medication. Parents are invited to drop in whenever necessary to medicate their children.
Information on this page is to be considered a guideline and does not substitute for a written contract. Please see school administrator for arrangements.
Open House
November 1st, 2018
Please Join Us For Our Open House. Empower your child for life with the right beginning!
From 1:00 p.m. to 2:30 p.m.
READ MORE