The History of Montessori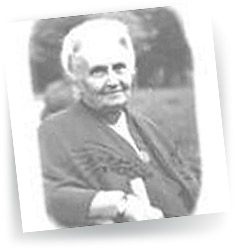 "Every child is a unique individual that needs to be understood, respected, admired and unconditionally accepted as a precious gift of life."
Dr. Maria Montessori, physician and passionate advocate for children, 1870-1952
Dr. Maria Montessori is known best for her pioneering work in education, but she was a pioneer in many other respects as well. She was the first woman to graduate from the University of Rome's medical school and was one of the first women doctors in Italy. Her approach to education stemmed from a solid grounding in biology, psychiatry and anthropology. She was a staunch advocate for children of all backgrounds, ages and abilities; a progressive, outspoken activist who made the education and well-being of children the cornerstones of her life's work. From her extensive research and field experience Montessori became one of the world's leading authorities on childhood education, as well as a supporter of human rights and peace.  She was nominated for the Nobel Peace Prize 6 times throughout her life.
As director of an institution for disabled children in Italy, she developed and implemented new educational programs designed to meet their particular needs.  Although these children had been largely dismissed by society as uneducable, Dr. Montessori's work with them showed great success, and many of the children went on to pass the national school exams.
She recognized the importance of early childhood education and adapted her teaching methods to meet the broad range of children's needs across different stages of intellectual and emotional development. The results showed that even the most gifted children had an innate potential that wasn't being addressed in a traditional school program. She found that children demonstrated a keen desire and determination to learn, given the right educational and social development opportunities.
Dr. Montessori spoke at national and international educational conferences, and more schools began developing variations of Montessori-based curricula. She realized the need for training, certification, and programmatic standards on behalf of children, to ensure correct design and implementation of Montessori-based teaching methods. In 1929, at the World Conference on New Education, she created the Association Montessori Internationale (AMI), a worldwide organization that provides teacher training, certification and accreditation for schools in countries around the world.
Maria Montessori did not describe herself as a teacher. Her time in the classroom was primarily spent observing children and helping teachers find opportunities to, as she described it, "...follow the child."
She studied children in many countries around the world and, according to AMI, "...saw firsthand the universality of the laws of human development." In later years, 'Educate for Peace' became a guiding principle in her work. Dr. Montessori continued her research and advocacy until her death in 1952. We here at Greece Montessori School in Rochester, NY, are devoted to continuing her legacy.