The Montessori Philosophy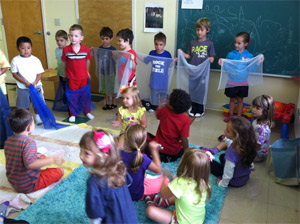 Please call our office with any questions at (585) 227-4830!
AMI-USA presents several key principles as the contributing factors to the success of a Montessori education:
Movement and learning are closely connected. Movement enhances learning.
We believe at the Greece Montessori School in Rochester, NY, and research confirms, that learning for the young child is inextricably linked to movement. To learn deeply, the child must interact with his environment directly and intimately.  Our classrooms are created to provide an environment that actively promotes spontaneous movement. This freedom allows children to follow their natural drive to learn, while pursuing their own interests in a purposeful way under the guidance of their teacher. An equally important result of this freedom to move is the opportunity for children to interact with peers, spontaneously and naturally, in the community of the classroom.
Mixed-age groups are able to relate to children who are both older and younger.
Mixed-aged classrooms support the intellectual, emotional and social development of children.
Older children understand the role they play as mentor and teacher, even as they engage in deeper academic pursuits. Younger children emulate the older children and find opportunities to learn from them. Our classrooms promote responsibility, respect for one another and community spirit. Every child learns to appreciate his or her unique role in the community.
Every child undergoes a unique developmental process.
Through careful observation, teachers can see the child reveal when he or she is ready for new information and experiences. Our teachers anticipate those needs and respond accordingly.
A teacher who understands child development can guide each child toward the work in the classroom that will be most beneficial to his or her particular needs and interests.
We believe childhood is a journey to be appreciated, not a race to the finish. When obstacles or challenges in their learning arise, our teachers help children to face them with a sense of curiosity instead of anxiety.
The classroom experience should build on the desire of the young child to master his or her environment.
Many activities are incorporated into the classroom experience to encourage both independence and care of their environment. From daily routines like putting things away, learning to tie their own shoes, or watering plants, every child learns how to care for him or herself and to take responsibility for some aspect of the classroom community. From these experiences, children gain confidence and a deeper connection to their community.
Learning materials allow children to learn at their own pace.
Our students are given the gift of time—to focus, learn calmly and take as long as they need to understand why something does or does not work.  Self-correcting materials are designed to let children develop patience, logical thinking skills and other abilities as they work with the Montessori materials.  Teachers are on-hand to guide and support each child's learning process, and to offer encouragement along the way.
Want to know more? Download the Montessori Dictionary.
Click here to see a chart comparing key characteristics of Montessori and traditional education.
"Education is not what the teacher gives; education is a natural process spontaneously carried out by the human individual, and is acquired not by listening to words but by experiences upon the environment."
Dr. Maria Montessori